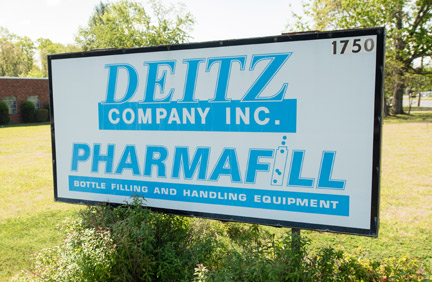 Set forth below are the Legal Notices and Terms of Use that apply to the following domains: deitzco.com, deitzcompany.com, pharmafill.com, neckbanders.com, shrinkbanders.com.
Please read the terms and conditions carefully before using the site. By accessing our website, you are agreeing to the terms outlined below. These guidelines describe the practices, procedures, and policies regarding our e-commerce website. We do not accept any deviations from these terms.
Our site including, without limitation, all site design, text, graphics, interfaces, and the selection and arrangements thereof is a copyright of Deitz Company, Inc. Permission is granted to electronically reproduce and print hard copy portions of the site for the sole purpose of placing an order with us or using our site as a legitimate business resource. Deitz Company reserves the right to make changes to our website, products, and terms at any time without notice.
This document supersedes all previous publications.
Copyright © Deitz Company, Inc. 2019.
All Rights Reserved.
ORDERING & TERMS OF SALE
Online Orders
As technology and the needs of our customers evolve, we plan to continually update and improve
our website in order to create a better purchasing experience. At deitzco.com, customers can directly order spare parts for Deitz Co. machines. Our e-commerce site makes it easy to find what you are looking for by classifying parts by each machine type. If an item is not in stock when a customer places an order, it will be placed on backorder and shipped when the item is available.
To submit an order through our e-commerce site, you must include a valid billing address, shipping address, phone number, email, and name. You will also have the option to create an account that will store your information and ensure quick and easy checkout for future purchases. For any questions or concerns regarding data storage, turn to our Privacy Policy.
All prices on deitzco.com are continuously updated to maintain accuracy; however, should an incorrectly priced part be displayed and ordered by a customer, Deitz Co. has the right to terminate the order and reinstate the correct price.
If you have a question about online ordering, call (732) 681-0200, Monday-Friday from 7:30 a.m. to 4:00 p.m. Eastern Standard Time or email us at sales@deitzco.com.
Security Interest
Deitz Co. reserves the right to withhold any goods for which payment has not been received or approved.
Changes to Orders
If you need to make any changes and/or cancellations to an order, please call sales and they will assist if possible.
Online Order Processing
Once you submit an order online, it will be processed as soon as possible. In most cases, this will occur the same day; however, if an order is made overnight or on a company or national holiday, the order will be entered the next business day. After submitting an order, please take note of your order number and confirmation details for future reference.
SHIPPING OPTIONS
Shipping Methods
At this time, all online purchases are shipped using Ground delivery. Delivery time depends on where the package is being shipped in relationship to our Wall, NJ location. We cannot ship to P.O. boxes.
Additional shipping methods are not currently available. If you require an expedited shipment, please call Deitz Co. for assistance. Additional charges may apply.
Shipping Charges
Ground shipping is free of charge for all orders made on deitzco.com. Free shipping may be subject to change without notice.
Receiving Shipments
If you have not received your order within reasonable expected transit time, contact us immediately. Please inspect all deliveries and notify us of any discrepancies or shortages as soon as possible so that we may correct the problem.
Shipping Dates
Customers may call Deitz Co. to obtain a tracking number so that they may be informed of any shipment updates. We do not guarantee the delivery times of carriers. Deitz Co. cannot be held liable if a date is not met. Unexpected backorders may change this information at any time.
PAYMENT
Payment Methods
Our e-commerce site accepts payment from the following credit cards:
VISA
MasterCard
Discover
American Express
JCB
Diners Club
These are the only allowed forms of payment online. All prices and payments reflect US Dollars, the only currency Deitz Co. accepts.
Credit card purchases made on the website are handled through the e-commerce service vendor Stripe. All payment methods must be approved prior to Deitz Co. moving forward with the order. If for some reason there is an issue, we will call or e-mail you to advise you of the problem to help minimize delay to your order.
RETURNS & WARRANTY
30-Day Money-Back Guarantee
If a customer is not satisfied, Deitz Co. offers a 30-day money-back guarantee on all products purchased from the e-commerce site, with the exception of air cylinders and air valves. Deitz Co. is not obligated by this warranty to reimburse a customer for any loss greater than the original price. A return/reimbursement request must be made either by phone or email within 30 days after delivery of the equipment. Products must be returned in the original boxes in like new condition. Include all documentation and additional components included with the original parts shipment. Freight charges shipping to and from the customer are the responsibility of the customer and are not reimbursed.
One-Year Limited Warranty
Deitz Co. warrants to the original purchaser that any purchased part made by Deitz Co. is free from material and workmanship defects. Deitz Co.'s sole obligation under this warranty shall be to provide, without charge to the original customer, repair or replacement of failed components, within one year from the date of delivery to the customer. Warranty replacements are shipped within the USA by next day express service without charge to the customer. For customers located outside the USA, a charge may be applied for shipping service. If Deitz Co. finds a warranty or return claim to be due to "customer abuse," credit will not be refunded to the customer. Warranty terms are suspended if the purchase and payment terms are not current or not as described.
EXCEPT AS EXPRESSLY PROVIDED IN THIS WARRANTY SECTION, WE MAKE NO REPRESENTATION OR WARRANTY OF ANY KIND, EXPRESS OR IMPLIED, ON DEITZ CO. PRODUCTS INCLUDING, WITHOUT LIMITATION, ANY WARRANTY OF MERCHANTABILITY, NON-INFRINGEMENT OR FITNESS FOR ANY PARTICULAR PURPOSE, AND WE HEREBY DISCLAIM SAME.
In no event will we be liable, whether in contract or tort, for lost profits or revenues, loss of use or similar economic loss, for any indirect, special, incidental, consequential, punitive or similar damages arising out of or in connection with any products, or for any third-party claims against you relating to the products, even if we have been advised of the possibility of such claim. In no event will our monetary liability exceed the purchase price that was paid.
PRIVACY POLICY
When you purchase an item or create an account on deitzco.com, you will be asked to share the following information: name, email, mailing address, phone number, and credit card information. Deitz Co. only collects and uses personal data as necessary to the functions for which it was obtained. These functions may include:
Orders – to process, ship, and inform you about the status of your orders
Account Maintenance – to create and maintain your accounts
Customer Service- to provide you with customer service, including responses to questions, concerns, or feedback regarding our products
To enhance site performance and customer experience, Deitz Co. may share your information with the following third parties:
We may share your information, as well as information from tools like cookies, with third-party Service Providers that help us provide the Service to you. They will be given access to the information only as reasonably necessary under confidentiality terms. We may also share certain information such as cookie data with third-party advertising partners. We may remove parts of data that can identify you and share anonymized data with other parties.