This HT6 Heat Tunnel automatically shrink tamper-evident bands and sleeve labels onto bottles and other containers. It's the ideal companion for your tamper-evident neck banding machine.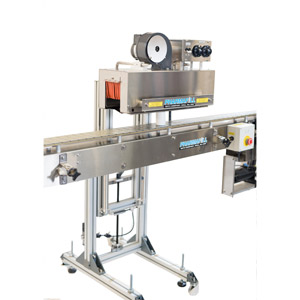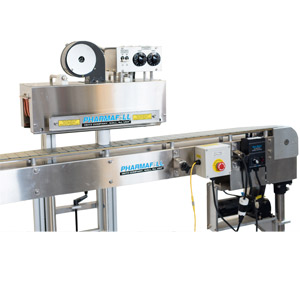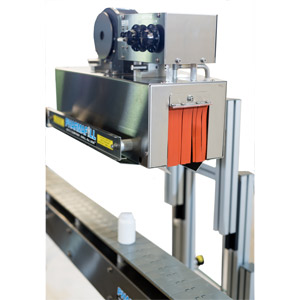 Deitz Company offers an Emergency Auto-Lift (EAL) as an option that automatically raises the heat tunnel high above the conveyor to prevent damage to the conveyor and product in process in the event of a power outage or other emergency.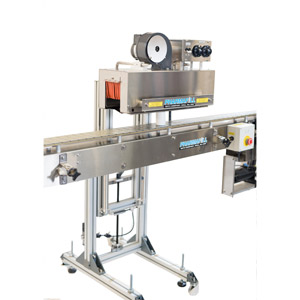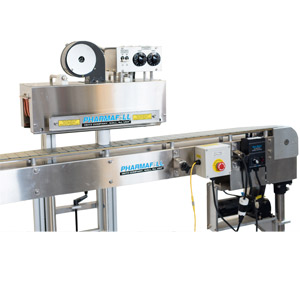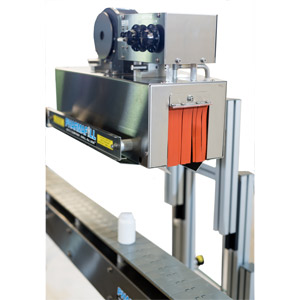 It's easy to warm up to the hottest in Deitz technology. Our latest HT6B Heat Tunnel machine automatically shrinks tamper-evident neck bands and sleeve labels onto glass bottles, plastic bottles and other containers. Whether using PET-G, PLA, PVC or another tamper-evident banding material, your bottles exit this heat shrink tunnel onto your conveyor perfectly sealed with a consistent shrink every time.
A How to on Heat Tunnels and Shrink Bands for Bottles
After a tamper-evident neck bander applies a shrink band to a bottle, the bottle moves down a conveyor through a heat shrink label machine. Inside, hot air shrinks the plastic band into a tight seal around the bottle cap or closure. Then the sealed bottle continues downstream. The heat may come from a variety of sources such as steam or radiant infrared. In designing our heat tunnel conveyor, we were focusing on providing consistently perfect seals in a compact system that's safe and easy  to use, and very affordable.
Our heat tunnel shrink wrap machine uses forced hot air in an energy-efficient combination of convection and radiant heat with surprisingly simple circuitry to deliver uniform heat distribution throughout the length of the tunnel. Ambient room air is blown through two, 3000 Watt, tubular heating elements. Inside, our proprietary, slotted panel design directs the hot air toward the bottom of the neck band first then gradually directs the air towards the top of the neck band as it advances to the tunnel exit for cooling. It's proven in the field to work year after year. It mounts on almost any plastic conveyor or get it with our adjustable-height lift stand so it can be adjusted to any packaging line and moved as needed. This heat shrink tunnel offers versatility, flexibility and reliability.
Extra Wide HT6W for Extra Wide Containers
Our latest heat shrink tunnel features an extra wide design to heat seal neck bands and sleeve labels on extra wide bottles, tubs and other containers. It accommodates containers as wide as 6-3/4 inches in diameter and as tall as up to 10 inches in height.

What Else?
Emergency Auto-Lift automatically lifts the tunnel to remove the heat source from the product and conveyor.
Heat-resistant curtain at tunnel entry helps maintain temperature inside the heat tunnel.
Sturdy, double-wall construction creates an extra barrier between the heating elements and the plant environment to help maintain the temperature inside the heat tunnel .
Near zero maintenance – just keep the tunnel insides clear of any banding or other material.
No contact! Our shrink band machine features stainless steel and anodized aluminum but never comes into contact with your bottles.
Seals up to 100 bpm (bottles per minute)
Works with containers from one inch to 10 inches high
Dimensions
Floor Foot Print 22" wide x 24" deep (56 cm X 61 cm)
Height – Variable 48" to 58" (120 cm to 146 cm)
Electrical Requirements