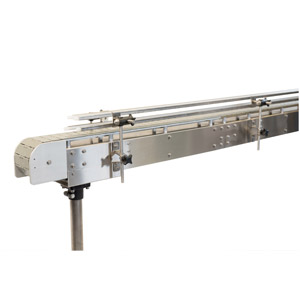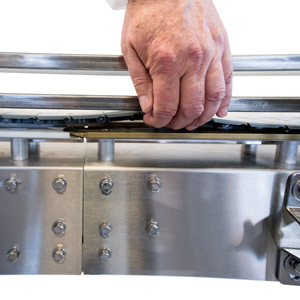 These conveyors are offered with optional, heat-resistant, brass wear strips for use with companion heat tunnels.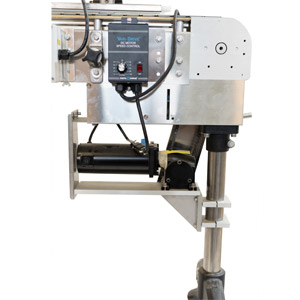 Sanitary design tucks the motor underneath the conveyor body.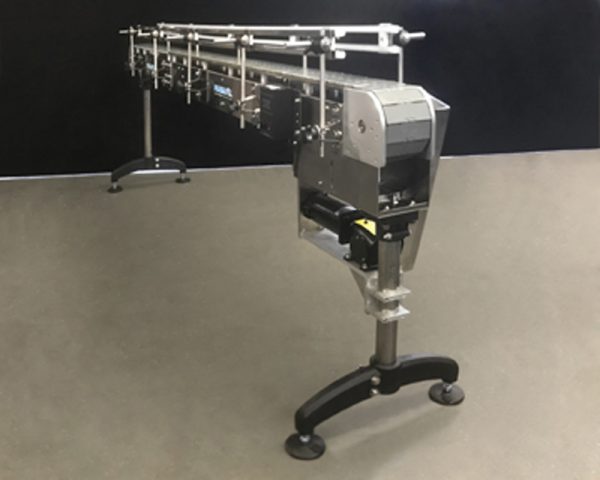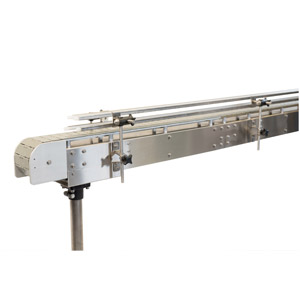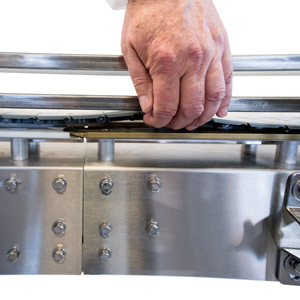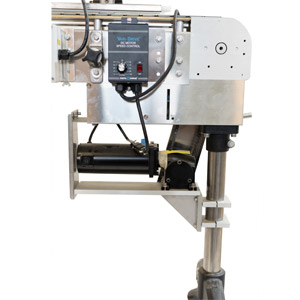 Our sanitary, stainless steel packing conveyors work with all of our Pharmafill brand packaging machines and with PLC-based bottle filling stations from all other packaging machine manufacturers. They're especially easy to integrate with automated electronic tablet counters, inserters, cappers, labelers and other machines in a packaging line for pharmaceuticals, nutraceuticals and other products because we use a proprietary, modular design. Our conveyors come in variable lengths from three feet to 30 feet and in custom lengths, and in a choice of dual lane or single lane in variable widths.
Like our machines, our conveyors are available in exactly the right size for your operation today and are able to grow and expand as your business grows and expands without over-buying.
Versatile Packaging Conveyor by Design
Our food-grade conveyors are designed to adjust to your packaging line configuration and to accommodate a huge range of extensions like spacing wheels, transfer plates, reject stations, corner turntables, bottle indexing air cylinders and more.
Single or dual rail gripping bracket for easy rail height, shape and spacing adjustments
Clever, pre-threaded clamping bracket makes it easy to add extensions without needing to drill holes in conveyor
Standardized rails, mounting hardware and other components for easy integration, expansion
Adjustable-height support legs
Flush side design for smooth side transfers from either or both sides
Cleanable Chain Conveyor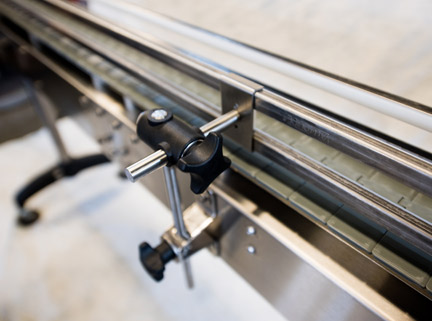 We designed our plastic belt conveyors so they're not just easy to clean but hard to get dirty. For example:
Acetal tabletop chain belt resists dust, wipes clean
Conveyor belt runs 1-1/2 inches above conveyor body for easy access under the belt without disassembly
Stainless steel body
Motor mounts under the conveyor to avoid contact with product and workers
What Else?
When you're investing in automated packaging equipment, it's easy to overlook the importance of the conveying equipment. The right conveyors ensure the entire filling and packaging line moves smoothly from one stage to the next without downtime. With the right Deitz conveyors, you can take full advantage of the potential line speed, capacity and efficiency of your automated packaging system.
Electrical Requirements: 115 VAC, Variable Speed Gear Motor Drive