Automatically insert cotton in your bottles fast. Our three Deitz models come with ease of use and dependable operation included. CS2 shown.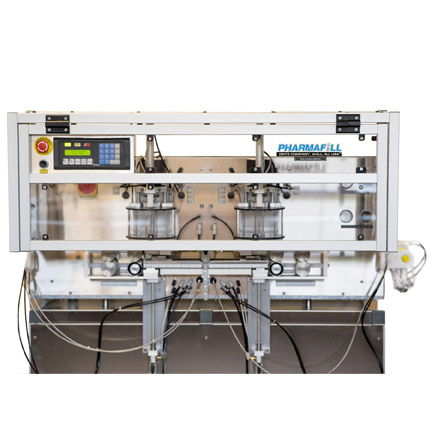 This CS10 cottoner features dual turrets to insert cotton into two bottles at the same time.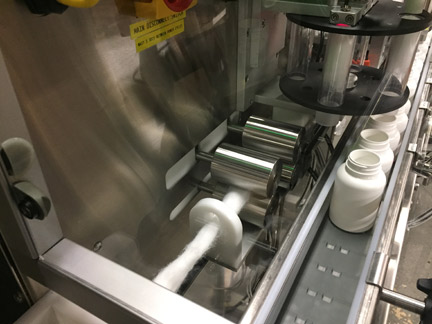 For superior safety and max uptime, our cottoners feature a novel pinch-roller system to separate the roll cotton into individual pieces instead of using blades.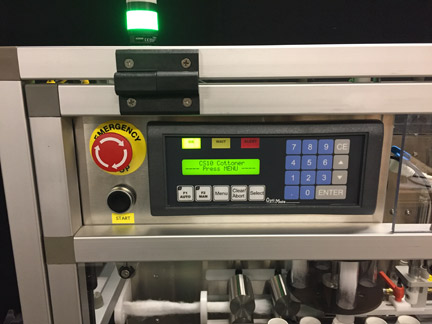 Our control panels are easy to setup and easy to use. CS10 cottoner shown.
CS1 cottoner inserter shown.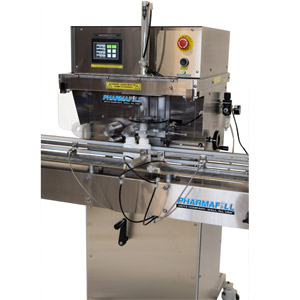 CS1 comes with durable, plastic safety shield.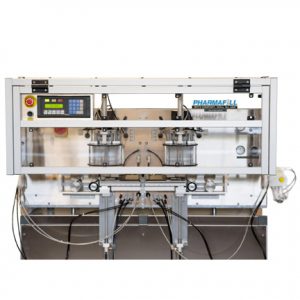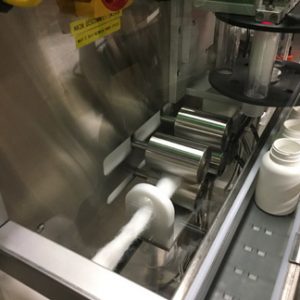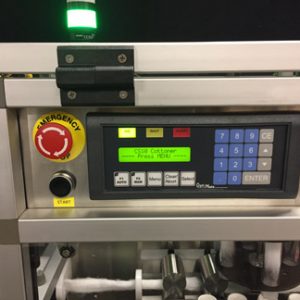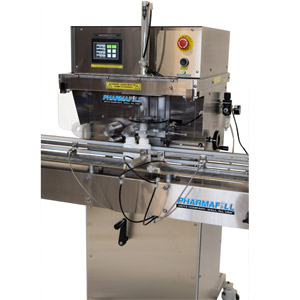 Cotton Inserter CS1, CS2, CS10
Automatically insert cotton into your bottles fast with our inserting machines. We pack our proprietary engineering advances into three, different Pharmafill brand cotton inserters to offer exactly the right amount of speed, capacity and affordability for every size company from supplement and nutrition startups to large, pharmaceutical giants without over-buying. Food-grade stainless steel, anodized aluminum, acetal and polycarbonate construction ensure our inserters are compatible with your sanitary facility and can handle demanding usage year after year.
How to Insert Cotton Into Bottles
Our CS1, CS2 and CS10 machines for inserting cotton in bottles start with a continuous roll of natural or synthetic coil, rayon or polyester and automatically form it into individual pieces up to nine inches long. Then the individual pieces are shaped into an inverted U and inserted into the center of a bottle. Once a bottle is filled, the cotton inserter machine automatically releases the bottle and repeats the cycle with a new bottle.
Automatic Cotton Inserter Model CS10
Our latest cottoner showcases every engineering advance we've ever built in a cottoner. Just roll it up to a standard conveyor and start stuffing cotton. This model of automated technology inserts cotton at high speeds up to 180 pieces per minute with unprecedented reliability. Setup is automated. Operation is automated. Even the height of the cottoner above the conveyor can be adjusted automatically.
Two filling head turrets run at the same time to fill two bottles at the same time. Yet it's not just twice as fast as other automated inserting machinery it's three times as fast!
Clever, high-speed roller assembly tears the cotton into pieces of uniform size every time without using a blade of any kind.
Cotton Fault Reject System (optional) detects if the roll or the bottle is missing or if cotton is visible above the bottle rim and automatically stops the filling process. Downstream problems that cause bottles to backup also trigger a stoppage until the problems are cleared – then it resumes operation automatically.
Insert 1-9 pieces per bottle.
Accommodates bottle heights from 1-9 inches.
PLC control for easy setup and control
Electrical Requirements: 115 VAC, 50/60 Hz, 30 Amp
Superior Safety
For safe, easy access for setup and routine maintenance, we set the moving parts inside a clear, durable, polycarbonate safety enclosure. No need for operator contact.  When the hinged door opens, the machine automatically shuts off.
Model CS1 Automatic Cotton Inserter
Upgrade from manual bottle filling with our entry level CS1 inserter. This automated inserter combines ease of use with high speed and dependable operation.
Select fully automatic or manual modes
Fill 60 – 90 bottles per minute
Easy to use computer control
Just 25-1/2 inches across
Electrical Requirements: 110 VAC 7A
And more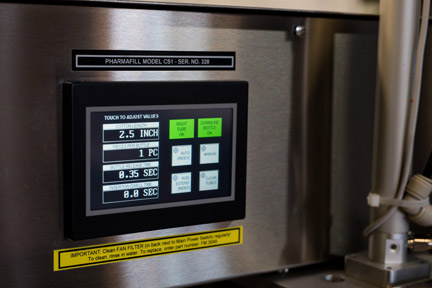 Model CS2 Automatic Cotton Inserter
Our fully automated CS2 cotton inserter offers many of the same automation, mobility and safety features as the CS10 in a compact footprint designed for growing companies.
Electrical Requirements: 115 VAC 15A, 60Hz
CS10 Dimensions
Floor Footprint 49" wide x 40-1/2" deep
Height Adjustable from 56" to 64"
CS2 Dimensions
Floor Footprint 31" wide x 40-1/2" deep
Height Adjustable from 56" to 64"
CS1 Dimensions
Floor Footprint 25-1/2" wide x 24-6/10" deep
Height Adjustable from 35-1/2" to 45"